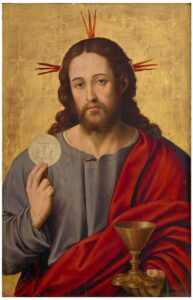 YOU ARE WELCOME TO JOIN US IN EUCHARISTIC ADORATION EVERY WEDNESDAY BETWEEN 10:00 AM AND 6:00 PM IN THE PARISH CHURCH
Adoration is one of the four forms of Catholic prayer.  In the prayer of adoration, we acknowledge that God alone is worthy of worship.  While Catholics honor the saints and angels for their communion with God, we offer a singularly high honor to God alone. Adoration is for God alone. Adoration is not only an acknowledgement of God's goodness and supreme authority, but also an act of deep, heartfelt love for God.
"Adoration is the first attitude of man acknowledging that he is a creature before his Creator.  It exalts the greatness of the Lord who made us and the almighty power of the Savior who sets us free from evil.  Adoration is homage of the spirit to the 'King of Glory,' respectful silence in the presence of the 'ever greater' God.  Adoration of the thrice-holy and sovereign God of love blends with humility and gives assurance to our supplications" (Catechism, 2628).
Since we believe that the Holy Eucharist is the Real Presence of Jesus Christ, and that Jesus is both true God and true man, we adore Jesus in the Eucharist by coming before the Most Blessed Sacrament placed in full view on the altar in a special and sacred transparent vessel known as a monstrance.
Eucharistic Adoration gives the privileged opportunity to spend peaceful, quiet time with Jesus in personal prayer.  Some worshippers choose to make a Holy Hour which is a dedicated hour of prayerful adoration before the Blessed Sacrament.  In Eucharistic Adoration, the adorer may pray a Rosary or other mental prayers, may read and meditate on verses from the Bible, or may reflect on a spiritual work by a favorite saint.  Yet, all these activities are done for the ultimate purpose of spending time reverently before the Lord Jesus, while adoringly offering to join our human will to God's divine will.
If you are interested in being a regular "adorer" and would be able to take a specific Holy Hour for our Wednesday or Saturday schedule, please call Steven Guillotte in the parish office at 508 993-2351.