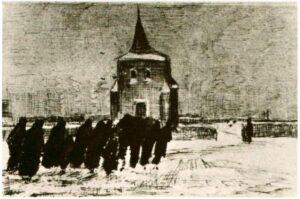 The funeral is more than just a memorial service.  It is the special rite of Christian burial beginning with Holy Mass and properly concluding at the graveside in the final committal prayed by the priest just before burial.  The Mass is the great liturgical prayer of the Church.  The funeral Mass is thus the first great liturgical prayer for a deceased Catholic – that he or she, coming before the examination of God, will be, by God's grace, assisted in purgatory and ushered into heaven.  The funeral Mass is also a time for all those in attendance to examine the state of their own friendship with God, and to begin a dedicated course of prayers for their deceased loved ones.  Through the homily, the readings, and the prayers of the funeral Mass we are consoled by our enduring faith in the loving mercy of God.
Funeral Masses here at St. Julie Billiart Church are scheduled in coordination with several local funeral homes.  Once the day and time of the funeral Mass is set, our parish office will reach out to the chosen family contact to offer consolation and to plan the liturgy.  Our parish staff works with each family to select the readings and the approved music from a pre-established booklet and to answer all questions concerning the funeral process.
NOTE – Present Restriction:
While family members are usually invited to read at the funeral Mass and to bring forth the offertory gifts of bread and wine, during this time of health precautions due to the COVID-19 pandemic, we have had to suspend this invitation. We look forward to extending this invitation to bereaving families again in the future.