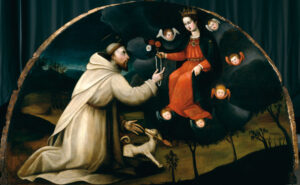 The Most Holy Rosary is a devotional prayer of the Catholic Church which is a mixture of vocal and meditative prayer.  While it is considered Marian in nature because of its many recitations of the Hail Mary prayer, the Rosary is a very Christo-centric devotion since all of the "mysteries" announced and meditated upon in this devotion are centered on the life and power of Jesus Christ.

The Rosary consists of four mysteries concerning the experience of Jesus: Joyful, Sorrowful, Luminous and Glorious. These mysteries summarize the life of Christ.  However, as the student of the school of the Rosary can attest, these mysteries are captured through the eyes and Immaculate Heart of the Blessed Mother Mary: they begin with the Annunciation (when Mary agrees to be the Mother of God), and they conclude with the Coronation of the Blessed Mother as the Queen of Heaven.  One might say that the subject of this last reflection sets Mary apart as a post-Ascension messenger to humanity, as can be attested to in her many acknowledged and approved apparitions on earth.
Our parishioners pray the Most Holy Rosary every day after daily Mass (Monday through Saturday).  We also dedicate the month of May to Mary and once per week in that month meet outdoors to pray the Rosary in our Mary Garden.
We encourage all parishioners to pray the Most Holy Rosary.  We are glad and able to provide personal instruction on this prayer and will provide a helpful brochure to get you started.
Besides our great devotion to the Holy Mass and to the sacraments and to Eucharistic Adoration, the Most Holy Rosary completes the trifecta of prayer for the success of our parish, which is the humble and earnest praise of God.